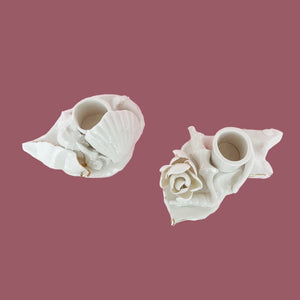 Candle holders | Hayom x Dana Yoeili
Regular price
$550.00
$0.00
Unit price
per
STORY:
Dana Yoeli is multidisciplinary artist whose work is imbued by nostalgia, memory and ceremonies. When her grandmother - the ceramicist Agi Yoeli- passed away, she started working with ceramics as well, and took over her Tel Aviv studio. For Hayom, Dana Yoeli created a personal interpretation of Judaica objects in white glazed porcelain and gold luster, that are inspired by nature and its ever changing eternality. The thread that is weaved between the two women and generations charges the pieces in a poetic sense, which seem both contemporary and timeless. The pieces are adorned with conches, shells and botanic elements sculpted free handedly and molded into shapes that are sensual and convey the feeling of ephemerality of life.
DETAILS: 
Pair of candle holders
Porcelain and gold luster 
Approximately 5.5" x 2.7" x 2.5" (14 x 7 x 4 cm) and 4.7" x 3" x 2.5" (12 x 8 x 4 cm) 
Unique 
Handmade 
CARE: Not dishwasher safe.