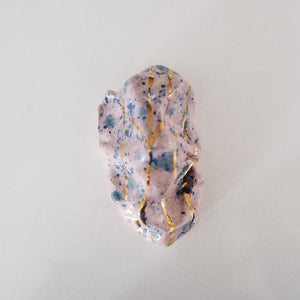 Mezuzah | Hayom x Maya Yadid
Regular price
$200.00
$0.00
Unit price
per
STORY:
Maya Yadid's practice delves into the central role played by food in the Jewish diaspora. For Hayom she created Judaica ceramics that are inspired by the action of kneading the challah bread, a tradition passed from generations in many Jewish families. By handling the clay roughly, as if it was the delicious Shabbat dough, she creates Judaica objects that are deprived of any straight line, echoing diasporic histories and paths.

DETAILS:
Ceramics, pigments and gold luster
~ 4 3/4" x 2" x 1 1/2" (~ 12 x 5.5 x 4.5 cm)
Unique
Handmade

CARE:
Hang to the right side of the door with double tape. 
Scroll not provided.